Saturday 18 March 2017, Torquay

Why fundraise for the Amy Gillett Foundation?
The Amy Gillett Foundation is the charity-of-choice for the Great Ocean Otway Classic with one purpose – reducing the incidence of death and injury of bike riders in Australia.
The Foundation was born out of tragedy, the death of Amy Gillett, who was hit and killed by a motorist whilst cycling with her national teammates in Germany. Since the Foundation's inception it has been a catalyst for change, focused on what should be rather than what was.
Our mission: safe cycling in Australia
Our vision: zero bike rider fatalities
AND, what's in it for me??
In addition to feeling good about supporting Safer Cycling, we've arranged for some amazing rewards for you:
Fundraise $50 and an exclusive 'a metre matters' pass cycling safely sticker will be sent to you
Fundraise $100 and an Amy Gillett Foundation cap is all yours
Fundraise $200 and an Amy Gillett Foundation jersey is yours
Fundraise $250 and an Amy Gillett Foundation bib knicks and jersey are yours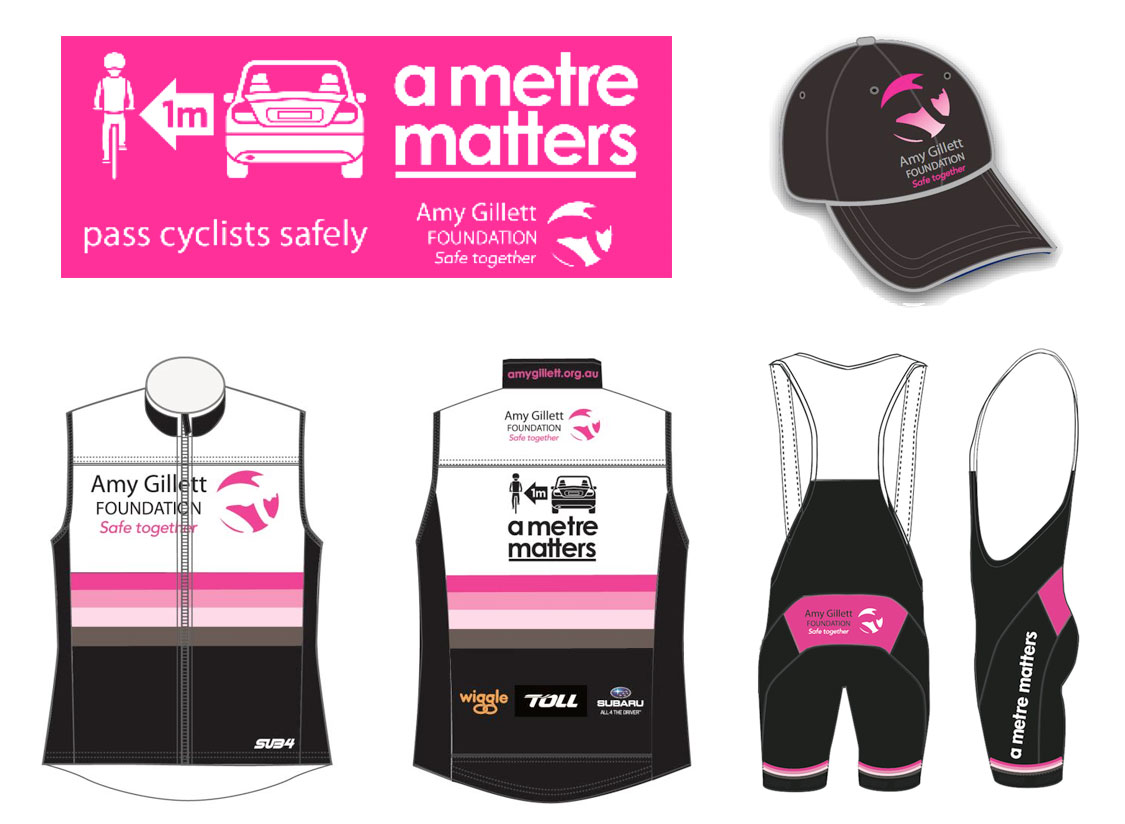 Your fundraising efforts directly support our work towards achieving our mission and realising our vision.
The Amy Gillett Foundation's a metre matters campaign has spearheaded the national effort for state and territory governments to implement minimum passing distance laws.
A metre matters because it provides a practical measurement for drivers when overtaking bike riders. As Australia's leading bike rider safety organisation, our mission is to achieve zero bike fatalities in Australia and adoption of these laws Australia-wide will make a difference in achieving that goal.
Milestones so far:
April 2014, Queensland became the first Australian state to trial minimum passing distances of cyclists, significantly improving bike rider safety on the roads
October 2015 South Australia, became the first Australian state to legislate minimum passing distances of cyclists
November 2015, ACT introduced a two year trial of the minimum overtaking distances
February 2015 Tasmania passed a law allowing motorists to cross centre lines to overtake bike riders
March, 2016 – New South Wales have introduced minimum passing distance legislation.
Victoria (Bill is before the government) – lobbying continues, watch this space
WA & NT continue to be lobbied to amend safe overtaking distance road rules as we strive to make bike riding safer across Australia.
Thank you for your support and happy fundraising!
Follow us online to keep updated on our progress.